Gift Cards & eGift Cards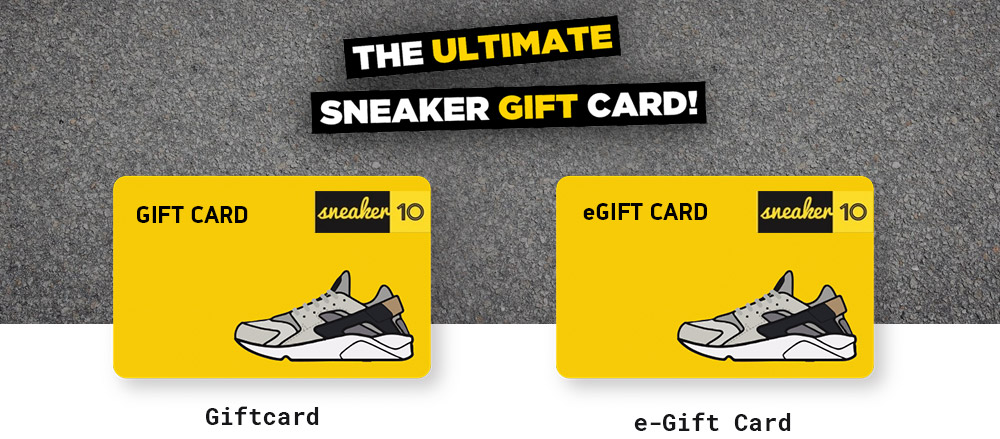 eGift Cards

Frequently Asked Questions:
How could I buy an Electronic Gift Card?
You can buy an Electronic Gift Card, with three simple steps online at www.sneaker10.gr and in our stores.


What is the minimum and maximum purchase amount for the Online Gift Card?
You can choose an Electronic Gift Card from €15 to €300.


What is the expiration date of the Electronic Gift Card?
An Electronic Gift Card has a validity period of 12 months from the date of purchase.


How an Electronic Gift Card is been sent?
An Electronic Gift Card is sent instantly as soon as you complete the order, by email or sms to the recipient.


What is an Electronic Gift Card?
You cannot exchange the Electronic Gift Card for money. You could use it exclusively for the purchase of products from sneaker10.gr or by phone order at 2811 808 888 or at any Cosmos Sport Store.
 
Is it possible to apply an Online Gift Card over and above a discount product?
You can use an Electronic Gift Card in combination with any other discount or promotion on sneaker10.gr at the time of purchase.


How do I know that an Online Gift Card has been sent to the recipient after purchase?
You will receive a confirmation email immediately after purchasing an Electronic Gift Card.


The Electronic Gift Card does not work, who do I contact?
If you are having problems with the redemption of an Online Gift Card, first check the number you have entered and try again. If you experience the same problem, send an email to Customer Support or call us at 2811 808 888.


Can I return an Electronic Gift Card?
The Online Gift Card cannot be returned, you can use the Electronic Gift Card to buy products with a value equal to or greater than the amount indicated on the Gift Card.


My Electronic Gift Card was stolen, deleted or sent to a wrong email/phone number; How could I replace it?
We cannot replace the Electronic Gift Card in the above cases.


Gift Cards
Perfect news!
Μake the perfect gift to your sneakerhead friends! Give them the opportunity to choose it themselves from a wide variety of big Brans names such as adidas, Nike, Jordan, Puma, Arkk, Reebok etc. just with a gift card from Sneaker10 stores!
Choose a Gift Card: 


FAQs

- How could I get a Gift Card?
It's easy! Just find a Sneaker10 store. Find all Sneaker10 stores here!


-How could my friend use that Card?
Each recipient can use the Gift Card in Sneaker10 store's products and brands throughout the duration of the Gift Card, without any limitation!


-Could I make a cashout online at Sneaker10.gr?
Not yet. Redeeming is only available at Sneaker10.


- What is the validity period of the Gift Card?
Your friend can find the right gift in 3 months from the time of Gift Card's issue!


- Can I return the giftcard and receive the equal amount in cash?
The giftcards cannot be returned! But we are certain if you visit one of our Sneaker10 stores, you'll find something you like in our wide variety of Sports & Casual famous Brands!
If you are looking for more information or answers click here.